One Mom's Plan to Let Her Kids Pack Their Own School Lunches This Year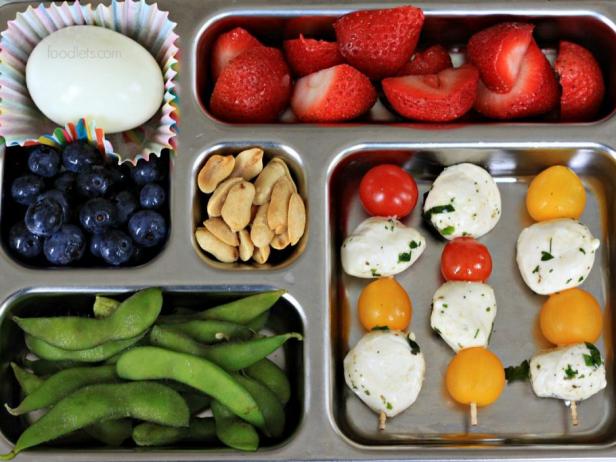 They're back at it! Our year-round school started three weeks ago, and this year I'm trying something new for lunch. It's called: Three Small Kids Pack Their Own Lunches. Here's how it works:
On the weekends I prep two platters, one full of fruit and the other with veggies. These are the only lunch "side dishes" for the whole week. Then I narrow in on two "main" ingredients for the week. Think peanut butter, tortillas, roasted chicken breast and so on. Each day I whip up a main dish for lunches using one of the two chosen ingredients in a different way — many of them can be made ahead of time. Every day when the kids come home from school, they wash out the lunch boxes, I set out the platters and the main dish, and let them go to work! Each kid fills a box full of just the right combination of fruits and veggies, then the whole thing is stored in the fridge for the next hectic morning ahead.
Here's a sample menu focusing on two main ingredients from this week, mozzarella cheese and eggs:
Monday: Mini Quiche Cups with Spinach & Mushrooms
Tuesday: Sandwiches on a Stick
Wednesday: Rolled Turkey and Apple Quesadilla Pinwheels
Thursday: Egg Salad Club Sandwiches
Friday: Turkey & Cheese Rollups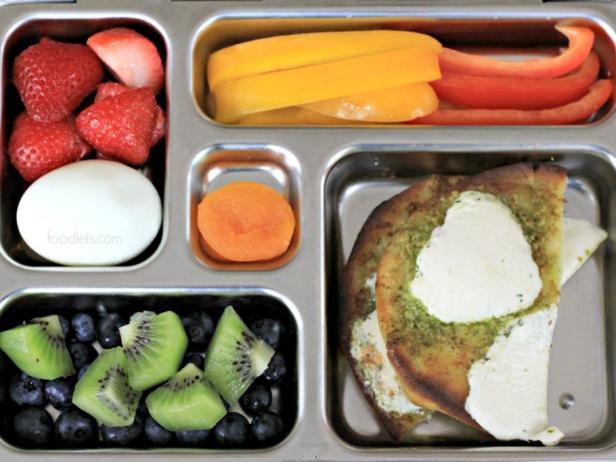 But the options are endless, especially if you really embrace the whole trick: making two things out of one ingredient and rotating through the week.
Roasted chicken breast becomes: Lemon Roasted Chicken Salad Wraps + Chicken Salad Sandwiches
Roast beef turns into: Sandwiches with Cheese-y Mayo + Take-to-School Taco Bar 
Even peanut butter can get interesting: Peanut Butter & Fruit Wraps + Peanut Butter Rollie-Pollies  
FoodletsFood Network FeedAugust 18, 2017
Enregistrer
Enregistrer