The Coolest Food and Drink Specials for the Great American Eclipse
By Kelly Magyarics
The afternoon of August 21, 2017 will mark the first time since 1918 that a total solar eclipse will be visible across the entire contiguous United States. (And another one like it won't occur again until 2024.) To celebrate the occasion, restaurants and bars are adding a bit of starry magic to their menus with items inspired by this rare celestial event. It's a great excuse for a gathering, so cross your fingers for clear skies and don't forget your eclipse glasses!
Solar Sour Flare Flight at The Chemist: Myrtle Beach, South Carolina
Food science is regularly celebrated at The Chemist, a molecular gastronomy- and mixology-focused restaurant and bar, so it's fitting that they're serving a libation that looks like it came straight from the laboratory. Sour candies and vodka are combined to create a rainbow of infusions. Guests receive five shots served in glass vials and presented in a clear globe filled with dry ice to look like an interstellar cloud.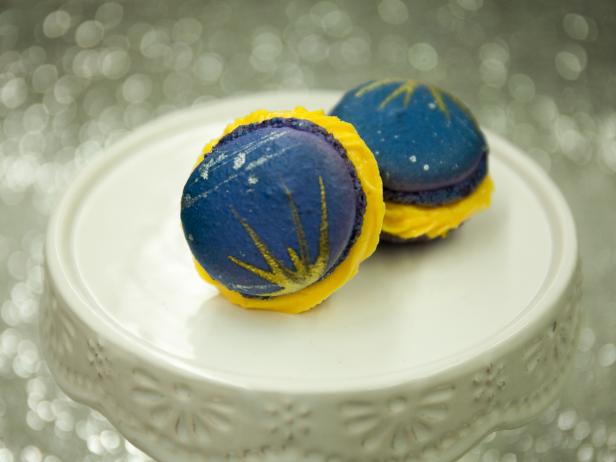 Total Eclipse Cupcakes and Moon Bites at Katie's Cakery: Riverton, Wyoming
Located in the path of totality, pastry shop Katie's Cakery is offering a variety of eclipse-themed menu items, including Total Eclipse Cupcakes decorated with white ganache and a gold-sprinkled rim. The Moon Bites are small raspberry macaron sandwiches filled with lemon buttercream and adorned with a hand-painted golden sunburst.

The Amarillo Moon Cocktail at 5Church Charleston: Charleston, South Carolina
New American restaurant 5Church Charleston gives a nod to the eclipse with its Amarillo Moon Cocktail. The drink blends jalapeno-infused tequila with passion fruit puree in a glass rimmed with locally produced Bulls Bay's Red Mash Sea Salt and black volcanic salt. "The black and red salts added a really nice depth and a little more earthiness than you find in traditional sea salts, also providing a beautiful color contrast to the bright orangey-yellow drink," says Beverage Director Patricia Smith.

Sombra de Luna at The 404 Kitchen: Nashville
The 404 Kitchen, a farm-to-table restaurant and craft cocktail bar in Nashville, has created its own interpretation of the eclipse. Topo Sabores Grapefruit Soda is poured into a Collins glass over ice, then served with a Glencairn glass filled with tequila, housemade blueberry jam and lime juice. "The grapefruit is the sun and the jam is the moon, [so] you put the moon on top of your sun blocking the sun, and there's your liquid eclipse," explains Chef Matt Bolus. "It's a celebration in a glass!" To drive the point home, the drink's name means "shadow of the moon" in Spanish.

Eclipse Magic Cone at Salt & Straw: Portland, Oregon
The secrets of deep space call for the sweetest of deep freezes at Salt & Straw. The ice cream company has concocted a frozen celestial treat that starts with a black charcoal waffle cone dipped in edible gold. It's filled with spiced marshmallow fluff and golden coconut-turmeric ice cream, then coated with a pop-rock-cratered-black-sesame shell. "I hope this ice cream merely helps your creative mind-space expand into the upcoming experience and helps push you to consider what exists, what doesn't exist and what might exist after totality," muses Tyler Malek, head ice cream maker and creative director.

Eclipse Negroni at Haven Rooftop: New York
Haven Rooftop conjures the eclipse with its red-hued Eclipse Negroni that transitions from a deep burgundy at the bottom to a paler shade of berry at the top. The striking effect, which is meant to symbolize the celestial phenomenon, is achieved by bringing together cinnamon-infused gin with Aperol, Campari and anise. Sip it on the bar's rooftop perch to get a glimpse of the partial eclipse expected to be visible in New York City.

Penumbra and Umbra at Henley: Nashville
Named for the shadows cast by celestial bodies during an eclipse, this duo of drinks from Henley's head bartender, Jon Howard, represents the light and dark sides of the moon. The Penumbra mixes light-bodied Fino Sherry with the bright flavors of rhubarb, grapefruit and strawberry. The Umbra stirs unctuous PX Sherry with the dark, rich flavors of rum, coffee and amaro. "The moon's shadow has two parts, so I wanted to make a drink for each" says Howard.

Spaghetti al Nero di Seppia at Za's on Devine: Columbia, South Carolina
Za's is located in Columbia, South Carolina, where residents will experience the longest total solar eclipse for a metro area on the East Coast (up to two minutes and 36 seconds of darkness). Executive Chef David Grillo has dreamed up a fitting dish for a lunar lunch by turning to his Italian roots. The light pasta entree is colored with squid ink, tossed with garlic and olive oil, then topped with blackened shrimp.

The Eclipse at I|O Godfrey: Chicago
The movement of the moon across the sun is emulated in this color-changing concoction, which will be served tableside at an eclipse-viewing party. Created by Executive Chef Nate Cayer, the cocktail starts with a pale base of sun-inspired lemon granitas. But when the frozen confection is drenched with a lavender-forward libation, it takes on a midnight-blue hue, which morphs into various shades of purple as the ice and liquid commingle.

Moonjito at Silent Brigade Distillery: Paducah, Kentucky
Since the eclipse falls on what is predicted to be a sizzler of a Kentucky day, bartender Scottie Timmons of Silent Brigade Distillery decided to put a twist on his favorite summer cocktail, the mojito. In a sly hat tip to the moon, his version is made with the craft distillery's Kentucky Moonshine. Timmons builds on the base by adding simple syrup, soda water and fresh orange mint he grows himself.

Dark Side of the Moon Pies at River Rat Brewery: Columbia, South Carolina
The decadent pies at River Rat Brewery are smothered in dark chocolate and stuffed with fluffy marshmallow. The result is a crisp yet chewy bite with a cosmically sweet flavor. What to sip alongside? A pint of the Moonraker India Pale Lager, aggressively hopped with citrus notes. As they say at the brewery, "When the rest of the world is in tune, the sun is eclipsed by the moon."

37* N, 87.7* W at Black Duck Bar: New Orleans
The Black Duck Bar is channeling a clear cerulean sky with its 37* N, 87.7* W cocktail. The drink's vibrant blue hue combines tequila with velvet falernum, blue Curaçao, orgeat and lime juice. Topped with Champagne and garnished with a lemon wheel and blackberry, the thirst quencher is perfect for the Big Easy's soaring summer temps. As for the cocktail's unusual name? It's a reference to the coordinates where the eclipse will peak.

Dark Side of the Moon at Aep: Kansas City, Missouri
Jakob Polaco, owner of the Thai small plates restaurant Aep, wanted to mimic the eclipse in presentation and taste. As such, he selected ingredients that would lend bright, sweet effervescence with just a touch of smoky darkness. Local gin, elderflower and Prosecco get a lemon wheel garnish, all finished with a fragrant housemade charred lemongrass syrup that's added tableside.
Photography courtesy of The Chemist, Shelle Anderson Photography, 5Church Charleston, The 404 Kitchen, Salt & Straw, Haven Rooftop, Henley, Za's on Devine, I|O Godfrey, Silent Brigade Distillery, River Rat Brewery, Black Duck Bar and Aep

To celebrate the total solar eclipse, restaurants and bars are adding a bit of starry magic to their menus with items inspired by this rare celestial event.
Guest BloggerFood Network FeedAugust 17, 2017
Enregistrer